Ultimate Collection Bundle (BEST VALUE)
Regular price
$261.00
Sale price
$180.00
Unit price
per
Sale
Sold out
Hurry, selling fast!
people are currently looking at this product
HURRY SAVE 30% OFF!
 SAVE BIG WHEN YOU BUY THE ENTIRE RANGE! 🚨
Including our newest product: Exfoliating Sorbet!
Get the complete collection and save BIG. We're confident you're going to GLOW with our entire lineup of products!
What's included, I hear you ask? 
Exfoliating Sorbet (NEW)

Foaming Micellar Cleanser

Pomegranate Facial Scrub Exfoliator

Australian Pink Clay Mask + Pink Bamboo Face Towel

Pore Perfecting Elixir

Vitamin C Supercharged Serum

Pink Pearl Illuminating Eye Cream

Australian Native Berries Moisturiser

Multi-Complex Facial Oil 

Pink Marine Collagen Overnight Mask 
Headband
Mask Brush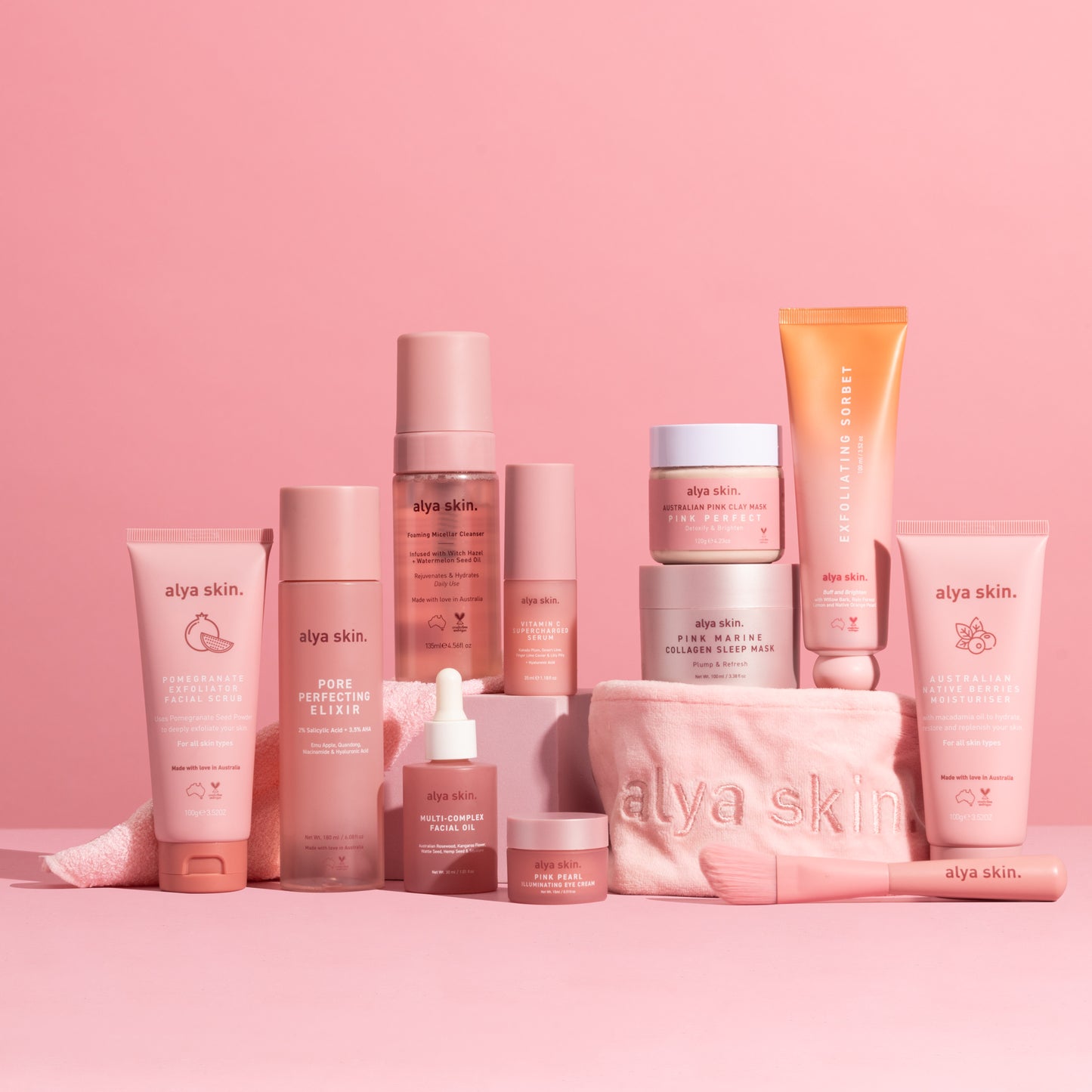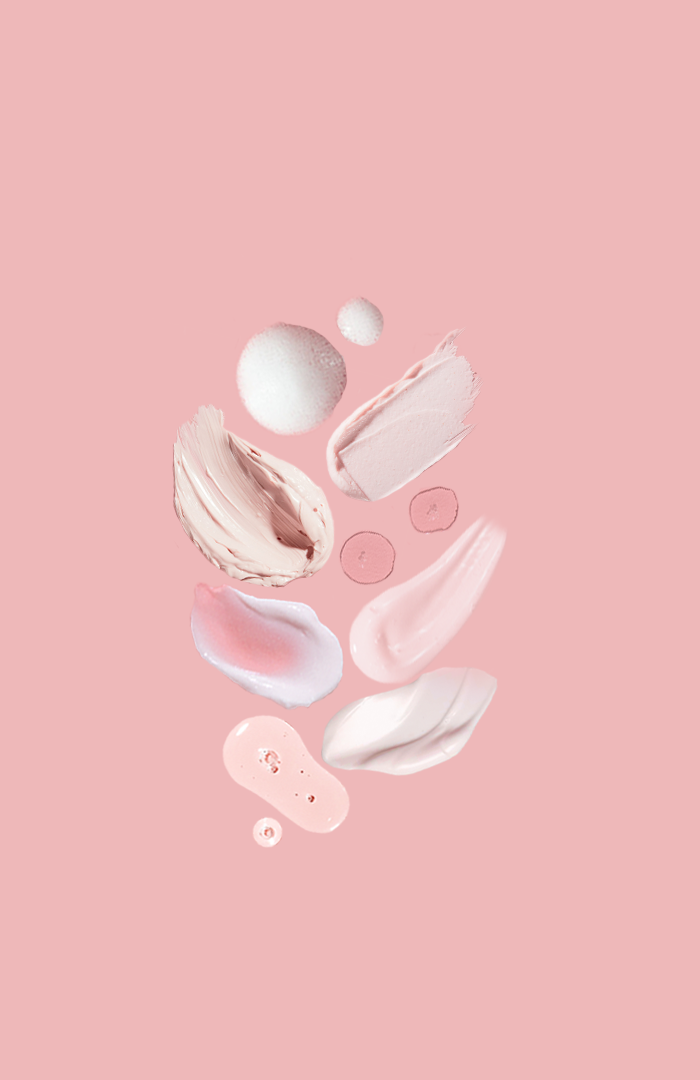 The benefits
Cleanse
The Foaming Micellar Cleanser helps remove impurities, toxins and makeup from the skin like a magnet. This helps to reduce and eliminate any bacteria which may cause infection or acne breakouts.
Exfoliate
The Pomegranate Seed Facial Scrub deeply exfoliates your skin to remove dead skin cells, leaving your skin feeling fresher and smoother.
Detoxify
The Pink Perfect Aussie Pink Clay mask defends the skin against the pollutants of oil, dirt and toxins, cleansing and to bring you bright, beautiful skin.
Clarify
Salicylic Acid is well-known to balance and dissolve excess sebum, prevent breakouts and blackheads, and refines the pores. This magical concoction of Salicylic Acid, AHA, and Aussie botanicals will help decongest and reduce inflammation associated with acne and hormonal breakouts.
Hydrate
Amplified with Hyaluronic Acid, the Vitamin C Supercharged Serum will keep the skin plump and dewy all day. This serum may assist the anti-aging process of your skin and promote a youthful glow.
Illuminate
Our Pink Pearl Illuminating eye cream works magically to brighten, smooth, and hydrate the eye area visibly. This eye cream illuminates, awakens colour corrects the under eye with its pearly-pink tone.
Moisturise
In our Australian Native Berries Moisturiser, three Aussie Super Berries promote collagen production for youthful and plump skin. This moisturiser is deeply moisturising and replenishes the skin.
Repair
Native Aussie oils, high in antioxidants and Omega Fatty acids repair and strengthen the barrier function of the skin while you snooze.
How to use
In what order should I use the Ultimate Collection?
Cleanse with the Foaming Micellar Cleanser
Use our Exfoliating Sorbet (or) Pomegranate Exfoliator. Be sure to only exfoliate 2-3 times per week
Apply the Australian Pink Clay Mask. 2-3 times a week (For best results, use after exfoliating)
After cleansing or using the Australian Pink Clay Mask, apply the Pore Elixir to a cotton pad and gently stroke over the face and neck. Use on alternate days to the Pomegranate Exfoliator
Apply the Vitamin C Supercharged Serum
Apply Pink Pearl Illuminating Eye Cream under eyes
Finish with the Australian Native Berries Moisturiser
Use the Facial Oil in the pm after cleansing - warm 1-3 drops in your palms and press onto your face and neck. Or, add 1-3 drops to an Alya Skin Moisturiser to boost skin nourishment
Apply an even layer of the Pink Marine Collagen Sleep mask before bed. Allow to dry on face for 5 minutes before hopping into bed. Wash off in the morning
What we don't include
ALUMINUM, DEA, MEA, TEA, MINERAL OIL, PARABENS, PEG, PHTHALATES, DMDM HYDANTOIN & UREA, PROPYLENE GLYCOL (PG) & BUTYLENE GLYCOL, SILOXANES, SODIUM LAURYL SULFATE (SLS) & SODIUM LAURETH SULFATE (SLES), SYNTHETIC FRAGRANCES, TRICLOSAN
Reviews
Here's what others have to say about this product.
Stay up to date all things @alyaskinaus